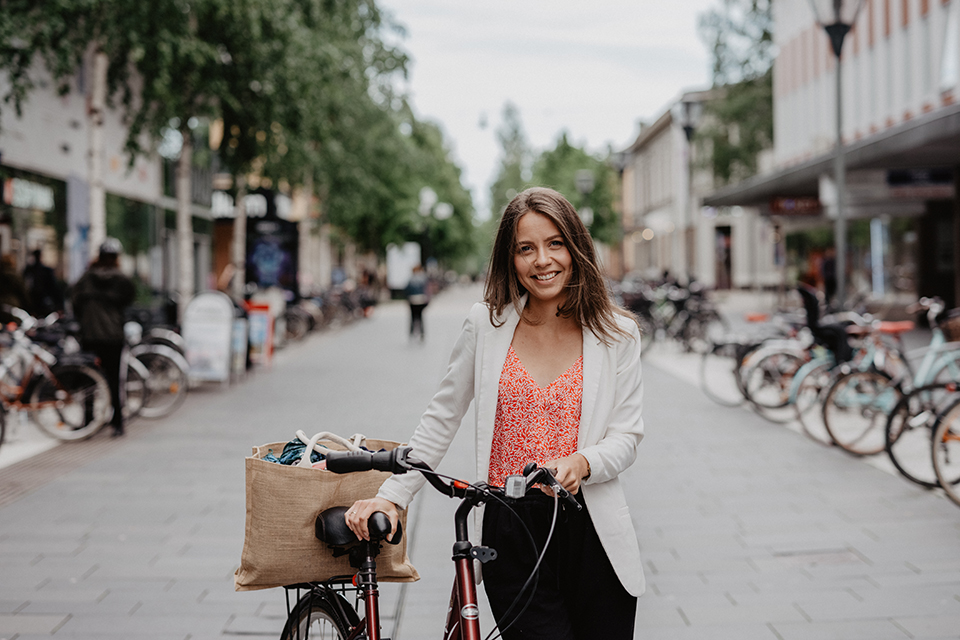 10 reasons to move to Umeå
What do you want out of the place where you live? Nature? Culture? Security? Inspiration? Pulse? Peace and quiet? In that case, maybe Umeå is the place for you. Here you have 10 (well, 9 ½ at least) good reasons to move here!
1. For a top notch quality of life. Västerbotten offers Europe's best quality of life. It sounds like bragging, and it is. But we are not actually the ones who claim it, it's the EU. The "EU Regional Social Progress Index" is an index that summarizes 50 different aspects of what characterizes a good life - such as health, influence and development opportunities. Only one region in the EU gets the highest score: Västerbotten.
2. For the feeling of living in a capital. Well, we know there are more official capitals, but not many have been named European Capital of Culture and simultaneously elected to be a part of networks like the European Capital of Culture, European Green Capital and European Smart City Lighthouse. In fact, there are only three cities in Europe, and Umeå is one of them.
3. For punk. Or hip hop. Or the opera. Or something. In Umeå, people do not wait for something to happen. You do it yourself. Creativity and doing it yourself have laid the foundation for a cultural life that in many ways is unparalleled in Sweden. Whether you are into fine culture or ugly culture - award-winning punk, opera, Västerbotten hip hop, existential slapstick, #metoo art or something completely different - the culture is never far off in Umeå.
4. For an active life ... Do you get more pulse from sports and games than from culture? Welcome - Umeå is Sweden's best city for sports. In addition, we are in the top three among Sweden's best cities for cycling.
5.… and the closeness to nature. When you then want to unwind, the magnificent nature literally awaits around the corner. Through the town runs the mighty Ume River, if you follow it a few well-directed stone's throws south, the Västerbotten coastline opens up. In the opposite direction it leads through magical forests up to the majestic mountain range.
6. For the future. Every year, 1,000 new jobs are created in Umeå, and unemployment is among the lowest in the country. Sweden's most environmentally conscious population also lives here, and for three years in a row, Umeå has reached the finals in the European Green Capital competition. Moving here is an investment in the future - your own and in the world's.
7. For the warmth. Okay, no one moves to Umeå for the tropical weather. (Possibly the opposite - in Umeå you actually still have good chances of experiencing a proper winter.) But if you ask Ume residents how they experience their city, the word "warm" is one of the most common answers. "Inclusive" and "open" are two others. This is probably one of the reasons why people in Umeå to a lesser extent move from here and are generally more positive about their hometown than residents of other cities in Sweden.
8. For childcare and schools. Umeå has one of Sweden's most well-educated populations. There are not just two universities and a design college here that several times has been named the best in the world. The foundation for the high level of education is laid earlier than that. As a resident of Umeå you have access to good preschools and eventually to primary schools, high schools and independent schools all with a higher proportion of qualified teachers than most other cities in Sweden.
9. For trust. If we are to lift a single thing that is Umeå's real superpower, then trust is probably it. Sweden is one of the countries in the world where people trust each other the most - and nowhere in Sweden is trust as high as in Umeå. Trust creates community and security - but trust is also the basis for innovation and new thinking. Trust makes us dare to challenge authorities and established truths.
10.… This one we leave to you! At this point, you probably are beginning to understand that thinking for yourself is a big deal in Umeå. That it's okay to think differently. And that almost everyone does - about almost everything. A real Umeå resident, for example, would never uncritically accept a list like this as the truth. So now you should train yourself to think like a real Umeåbo: Forget everything you have read here and form your own opinion instead!
Open to suggestions:
What is your strongest argument for moving here? Email your suggestion to anna.olofsson@umea.se, and maybe we will update the list. (P.S. if you need inspiration - talk to one of the 130,000 people who already have chosen to live here and who all have their own truth about why.)