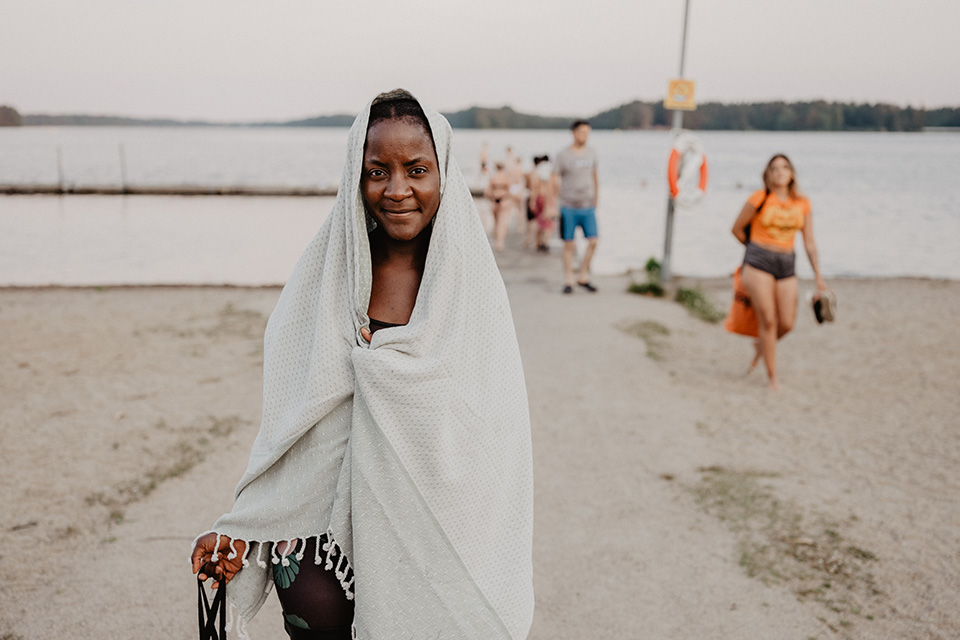 11 unexpected things waiting for you in Umeå
So, you're finally getting a chance to see Umeå – that's great! We're confident you're going to love it, but just to make sure you there are no unwelcome surprises we've made a list of unexpected things waiting for you in Umeå:
1. The Sun (almost) Always Shines. We're not just saying that. Umeå's location, roughly 300 kilometers south of the Arctic Circle, means it – quite literally – never gets dark during the summer months. By early June the sun sets at around 23:00 and rises at about 02:30 offering about 20,5 hours of uninterrupted daylight. So, bring your sunglasses and make sure the hotel room offers proper drapes.
2. 16.000 People Carrying Baseball Bats. Don't worry, it's not as bad as it sounds. Every year since the early 1970's the festival Brännbollsyran takes place in Umeå. 3-5 June the city hosts the Official World Cup of "Brännboll" – a sport resembling baseball – and thousands of people participate in the three-day long tournament held right by the Umeå University campus. The accompanying sold-out music festival boasts names like rapper Macklemore (US) and DJ Tiësto (NL) and is one of Sweden's biggest musical events. A weekend of fun, games, and loads of great tunes!
3. 500+ Vintage Guitars. Guitars – The Museum holds one of the world's foremost collections of vintage guitars, but more importantly: the stories behind them. Book a tour with the brothers Samuel and Michael Åhdén and their passion is guaranteed to make an enthusiast out of you within an hour.
4. A Stranded Luxury Cruise Ship. Well, not really. What you'll see when crossing the Umeälv (Umeå River) is Väven – a 13 story hotel and culture center designed by Norwegian architect firm Snøhetta, inspired by the white birch trees lining virtually every street in Umeå. Vicious critics have likened the building to a stranded cruise ship, while others celebrate the bold contrast of old and new. Väven and Snøhetta was awarded the 2014 Kasper Sahin-prize for its "courage to differ". Judge for yourselves.
5. Sports, sports and more sports. The residents of Umeå are just crazy for sports. Soccer, floorball, trailrunning, competitive climbing, hockey, beach volleyball, skiing, padel, basketball, swimming, cross-fit, curling – you name it, we do it. Our long-term love affair with all things sports has rendered in Umeå being named the Sports Capital of Sweden three out of the past four years by the Swedish public service television company (SVT).
6. Polar Bears. Just kidding, that's Svalbard. We've got a few regular brown bears though, but they tend to shy away from visitors.
7. Pizza Rolled Up Like a Rug. Ever heard of "Rullpizza"? It is a pizza rolled up and filled with salad and dressing, consumed like a giant sandwich. Legend has it the dish was spawned in a food truck at Rådhustorget in the mid 1980's, and the locals swear by it as the ultimate fast-food. Try it now, thank us later.
8. Artsy People Doing Artsy Things. Art and culture have a special place in the Umeå community. Whether it's a talking shrub at Bildmuseet, a performance artist peeing on stage at NorrlandsOperan or an eclectic electro-alt-pop duo playing at Väven – we embrace it with a passion. This passion made Umeå the 2014 European Capital of Culture, the jury praising the city's grassroot-movements and do-it-yourself spirit. The Umeå Arts Campus hosts one of the world's leading design schools, with students from more than 30 different nationalities working on being the next Steve Jobs.
9. Beards and Tattoos. Just a heads up: A fair guess is that Umeå has one of the beardiest (ok, that's not a real word) and most heavily tattooed population in the world. But don't be alarmed, even though they might look a little menacing most of these guys are either kindergarten-teachers, dessert-chefs, stay-at-home dads, or copywriters – and completely harmless. We just have a thing for beards and tattoos in Umeå, that's all.
10. More Bikes Than on Tour de France. Umeå residents ride their bikes everywhere – all year round. Even during the snowy winter-months you'll see hundreds of stoic cyclists fighting their way against the freezing wind, eyes staring into the storm and feet peddling like crazy. The traditional cyclists have now been joined by electric kick-bikes zooming along the 246 kilometers of bike paths leading through and around Umeå.
11. The Most Trusting People You'll Ever Meet. Sweden has some of the highest levels of trust between people in the world, and Umeå tops the national list. Now this might make us sound like the most gullible people on the planet, but trust creates a sense of community and gives you courage to try new things – which drives innovation. And a fair warning: Trust is contagious, so you just might catch some of it while you're here.